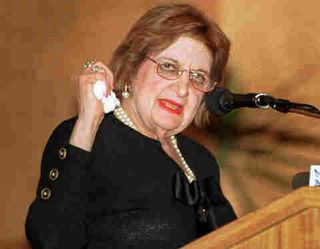 Cutter Network News (CNN) Exclusive --
It's the scandal that won't go away.
Just days after the she was
fighting him for meatball sandwiches
and pile driving
Nickie Goomba
into the sand on Mooloolaba Beach, Helen Thomas spoke exclusively with CNN about the older man that makes her feel young yet again. And passionate. "The day Nick Goomba is going to run from me,
I'll kill myself
," she told CNN. "All I need is one more liar, I mean, one more man. You know what I mean." Thomas added, "I think he'd like to run, but it would be a sad day for the country if he does. Plus, I would run him down like a cheetah on the African plain. Marry me, Nicholas Goomba."
Mr. Goomba did not return phone calls seeking a comment. However, a resourceful CNN reporter waited for Goomba to emerge from his cubicle and head out for his daily spaghetti lunch. When approached on the street about his relationship with Ms. Thomas, Goomba angrily barked at reporters, "I did not have relations with that woman, Ms. Thomas. Now, if you will excuse me, I have got to get back to work for the American people."