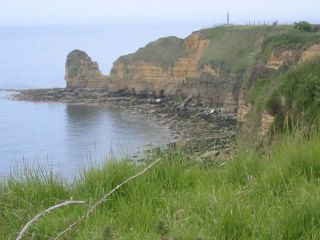 My dad used to always ask me this familiar question on days like today. Thus, I didn't need a school teacher to remind me. I knew.
As the years have gone by, I have grown more and more in awe of the heroism of those who have gone before in the defense of freedom. On this day 61 years ago, young Americans and our allies stormed the beaches of Normandy to defeat the evil that was Hitler's Germany.
The most daring task in this most daring mission fell to the Army Rangers -- specifically Lt. Col. James Earl Rudder's Second Ranger Battalion at a place called Pont-du-Hoc (pictured above.)
See their story
.
The task was straight-forward enough: Scale the 115'-125' cliffs under heavy German fire with approximately 300 men to take the position used for six huge 155mm guns, each with a range of fifteen miles. Thus, the success of the Rangers was vital to the overall success of the D-Day invasion.
Lt. Col. Rudder, a school teacher and football coach from Eden, Texas, personally led the assault. Nearly half of his Rangers were killed or wounded in ascending the cliffs.
But their courage -- both moral and physical -- was too much for the Nazi defenders. As fire rained down on the Americans, they looked evil and the eye and advanced. Evil blinked.
Hell has no fury like that of good men. The Rangers took the guns.
When their initial ascent had been successfully completed, Lt. Col. Rudder's communications officer sent the signal: "Praise the Lord."